Great Debate Finals 2019
Last week marked the culmination of the 2019 Great Debate programme
The Great Debate is RSPCA's prestigious debating competition for Key Stage 3 pupils, and forms a key part of the RSPCA's Generation Kind initiative.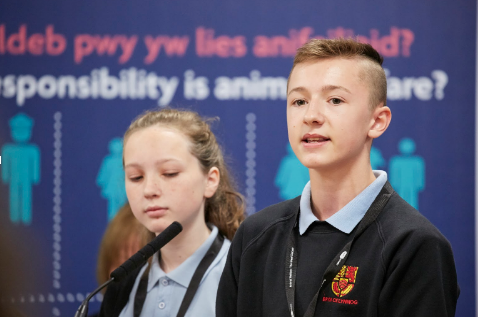 11 to 14 year old students from schools across the country debate special subjects, on the issues of animal welfare, which are given to each participating school for them to research & prepare their debates in advance. The schools who advanced to the finals debate the question `Whose Responsibility is Animal Welfare'; weighing up the various responsibilities of the different agencies involved - namely the governments in England and Wales, Local Government, RSPCA, vets, the police & the public.
The Great Debate is a unique opportunity for pupils to develop their debating skills alongside learning about animal welfare topics as they compete against other schools to be awarded the winning place.
In total across the two countries, 245 pupils from 31 schools took part in the heats, with six teams from each progressing to their national final.
The winning schools were Dixons Trinity Chapeltown (England) and Bryn Celynnog Comprehensive School (Wales). Individual prizes were also awarded to participants who were recognised as `Future Politician', `Future Campaigner', `Future Journalist' and `Animal Welfare Champion'.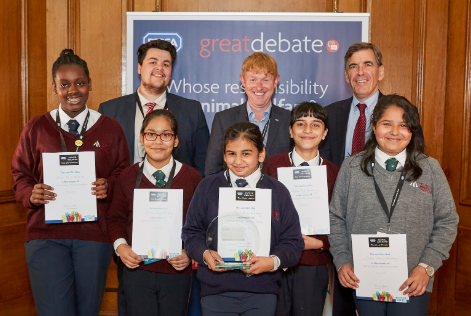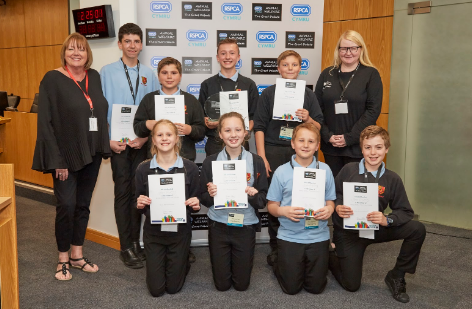 We were thrilled to be joined by the Minister for Animal Welfare, David Rutledge MP at the England Final. The Welsh Final was kindly sponsored by Lesley Griffiths AM, the Minister for Environment, Energy and Rural Affairs, while a senior Welsh Government official, Head of Animal Welfare Irene Allen, attended to meet the participants and feedback on their contributions.
RSPCA's Head of Prevention & Education David Allen said:
"The schoolchildren in attendance were inspiring, and debated with style and panache the key issue of who holds ultimate responsibility for animal welfare.
"Generation Kind is all about inspiring young people to be compassionate, empathetic and understand our fellow living creatures. Those taking part seized all the opportunities on offer - from first-class debating, to acting as budding student journalists.
"It was particularly rewarding to see how the children had progressed since the heats - growing in confidence, and having taken fresh approaches to research and communicating their ideas.
"We hope the scheme will leave a lasting legacy for participants, with the individual award winners too displaying the skills the Great Debate aims to develop - namely communication, campaigning and compassion."
The proceedings of both days were brilliantly captured by graphic illustrators, whose work can be seen below: