Young animal lovers with big hearts raise money for RSPCA
From writing a book, litter picking, baking dog biscuits, or asking for donations instead of birthday presents - the RSPCA has some fantastic young fundraisers who are doing all they can for animals.
A group of four young people in Lincolnshire have been raising money for the RSPCA through the Humberside Police Lifestyle Project. The group named Fourbulous from Kirton in Lindsey includes Emily Rhodes, Holly Kerr and Ruby Betts.
Sarah Rhodes, Emily's mum, said: "The girls all sat in my garden and I asked them what they wanted to do over the summer. They all said 'we need to stop single use plastic, we need to tidy up the earth and stop killing the animals.` They decided to raise money for the RSPCA because they help all animals not just cats and dogs.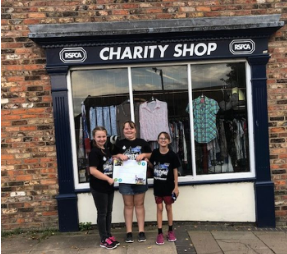 They made dog collars, baked dog biscuits, created bird feeders out of plastic bottles and sold donated bird boxes and hedgehog hotels at Kirton in Lindsey Gala. They also held a raffle and tombola and raised £345.
They even made a plastic themed treasure trail with clues to the next question hidden around the town to raise awareness of single use plastic and how it's choking our oceans. They also did lots of litter picking to stop animals getting hurt or dying because people are too lazy to put their rubbish in the bin. They then held a disco at Klassic Park with games including guessing the weight of the amount of litter they had collected, which was over 22Ibs."
Fourbulous has raised over £700 in total for the RSPCA.
Sarah added: "They've had lots of fun and made many memories raising money for the RSPCA and it's been really important to them to know they are making a difference to animals and the environment."