Code of conduct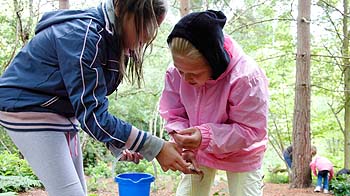 The RSPCA recommends that schools draw up a code of conduct for studying animals in their natural habitats. For example:
show respect for animals and the places where they live
never handle animals ¿ draw pictures or take photos instead
move quietly and slowly so you do not disturb animals ¿ and take care not to step on any animals that crawl/fly away
leave animals¿ homes exactly as you found them ¿ if you turn over rocks and logs put them back the way you found them
do not drop litter.
School trips
Observing animals in captivity, including zoos, farm and safari parks, rescue centres and sanctuaries, raises a number of animal welfare questions:
Are the animals behaving naturally?
Are their needs being met?
What are pupils learning about the animals and their needs from seeing them in captivity?
We recommend using the following checklist before taking pupils to an animal venue:
Visit the venue before the trip to assess animal welfare issues that may be raised and identify any health and safety considerations
Ask pupils to think about the animals, their needs and their natural lifestyle before the visit. Identify what they will be looking for and why
Draw up a code of conduct for the visit with pupils to ensure that disturbance to animals and their homes is kept to a minimum
Highlight the animals¿ needs and question whether they are being met throughout the visit ¿ encourage pupils to focus on the quality of the animals¿ environments
Follow up any animal welfare issues raised after the visit.
See more ideas to make your school animal-friendly or download the full version of our Animal-friendly schools guidance (PDF 369KB). A Welsh version (PDF 246KB) is also available.