Education and Community Engagement Hubs
Our Education & Community Engagement Hubs work in targeted catchment areas around specific national RSPCA animal or wildlife centres and offer a variety of programmes through outreach, onsite and virtual delivery methods.
Wild Things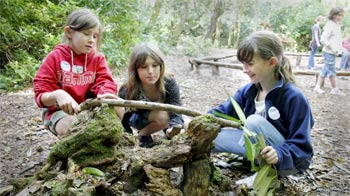 Our Wild Things projects at RSPCA Mallydams Wood in Hastings and RSPCA Newbrook Farm in Birmingham, deliver amazing experiences and bring essential animal welfare education to communities who have few opportunities to connect with nature, pets and wildlife.
As well as using learning in the natural environment to reach out and support school children, young people and families who are not achieving their potential, Wild Things also looks to improve the emotional well being and resilience of those taking part.
Mallydams Wood
Mallydams Wood is a nationally acclaimed centre of excellence for animal welfare education, in Hastings, East Sussex. Our 55-acre magical woodland brimming with animal hideaways, quiet places and footpaths to explore sets the scene for wildlife detectives of all ages.
Whether searching for animal clues, solving wildlife mysteries or sitting quietly listening to night time noises, Mallydams Wood has a host of experiences to set the senses alive and stimulate an enquiring mind. We've encouraged thousands of children and young people to develop respect and empathy for animals and their environment as well as investigative and problem-solving skills and resilience through hands-on activities, outdoor exploration and enquiry based learning.
Newbrook Farmhouse Education Centre
In 2018 the centre started as an outreach unit running out of Birmingham Animal Centre. After successfully growing the programme and reaching thousands of young people each year, we opened a newly built dedicated education centre in October 2020.
Stapeley Grange
Stapeley has a history of running school programmes, and in early 2020 they joined the Prevention & Education team as part of Generation Kind. They are still in the early stages of developing new programmes.
West Hatch
In early 2020 West Hatch joined the Prevention & Education team as part of Generation Kind. They are one of our newer education Centres and are in the early stages of developing a well-rounded outreach programme and community offering.